Firefighter Scheduling Software
Fire Department Scheduling Simplifed
Learn More About Our Crew Management System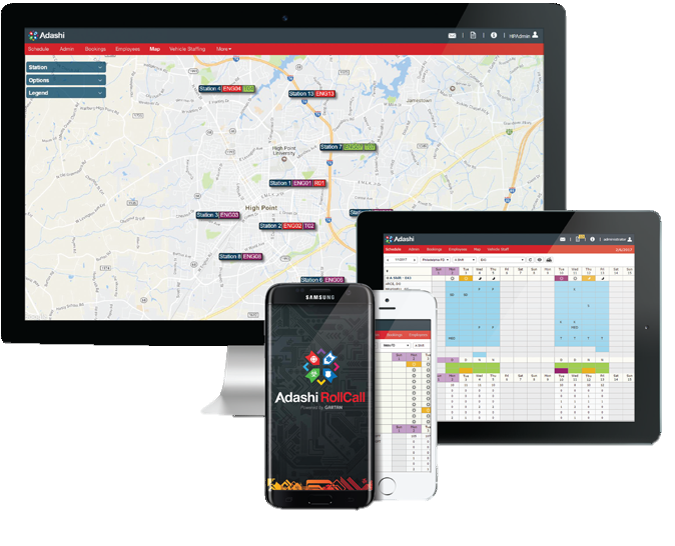 Modern Fire Scheduling and Workforce Management Software
Learn More About Our Fire Roster Solutions
Adashi RollCall helps Battalion Chiefs and Scheduling Administrators manage the fire department scheduling process quickly and easily. Our cloud-based solution allows administrators to check minimum staffing levels and address breaches from any location with Internet access, no central computer required.
Unlike other options on the market, our solution is specifically designed for firefighters and their unique needs, incorporating Kelly days, rules-based overtime, and more.  Our automated fire scheduling system also interfaces easily with many records management systems to keep your data accurate and improve firefighter accountability.
Why Fire and Rescue Services Choose Adashi's Firefighter Staffing Software
Learn What Sets Us Apart From Other Firefighter Scheduling Providers
Want to See Adashi RollCall in Action?
Firefighter Scheduling Apps
Check Your Rotation Right From Your Smartphone
Android and iOS Apps
Our cloud-based online rostering tools can be accessed from any digital device with an Internet connection. We also offer iOS and Android apps so that firefighters can view their monthly rotation and Kelly days, request overtime or shift trades, and receive messages from commanders, all from their smartphones.
Mobile apps also save administrators time and energy by simplifying processes and preventing breaches.
Firefighters can use our mobile apps to:
request bookings and shift adjustments
view how much leave they have available
see their monthly rotation and more.
 A Trusted Provider of Fire Rostering Software